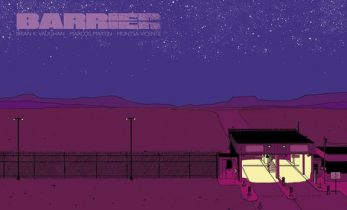 The five-issue miniseries will be available in print for the first time this May.
Brian K. Vaughan and Marcos Martin, the Eisner Award-winning creative team behind THE PRIVATE EYE, are reunited in BARRIER, the five-issue miniseries originally published in digital format via Panel Syndicate and featuring color work by Muntsa Vicente.
---
BARRIER is a truly unconventional drama that tackles violence, language, and illegal immigration—with a shocking sci-fi twist. Printed in its original "landscape" format and graced with gorgeous cardstock covers, each comic is meant to be a durable work of art.
"I'm enormously proud of this story, not least because it features some of the best artwork ever from the incomparable Marcos Martin and Muntsa Vicente," said Vaughan. "Everyone behind PanelSyndicate.com is so excited that Image is bringing this story to print and making these five extra-sized issues available exclusively through local comic shops. Gracias!"
"Una historia sobre las barreras que levantamos entre nosotros y el viaje necesario para comprender que todos compartimos un mismo destino," dijo Martin. "We hope you'll enjoy the trip!"