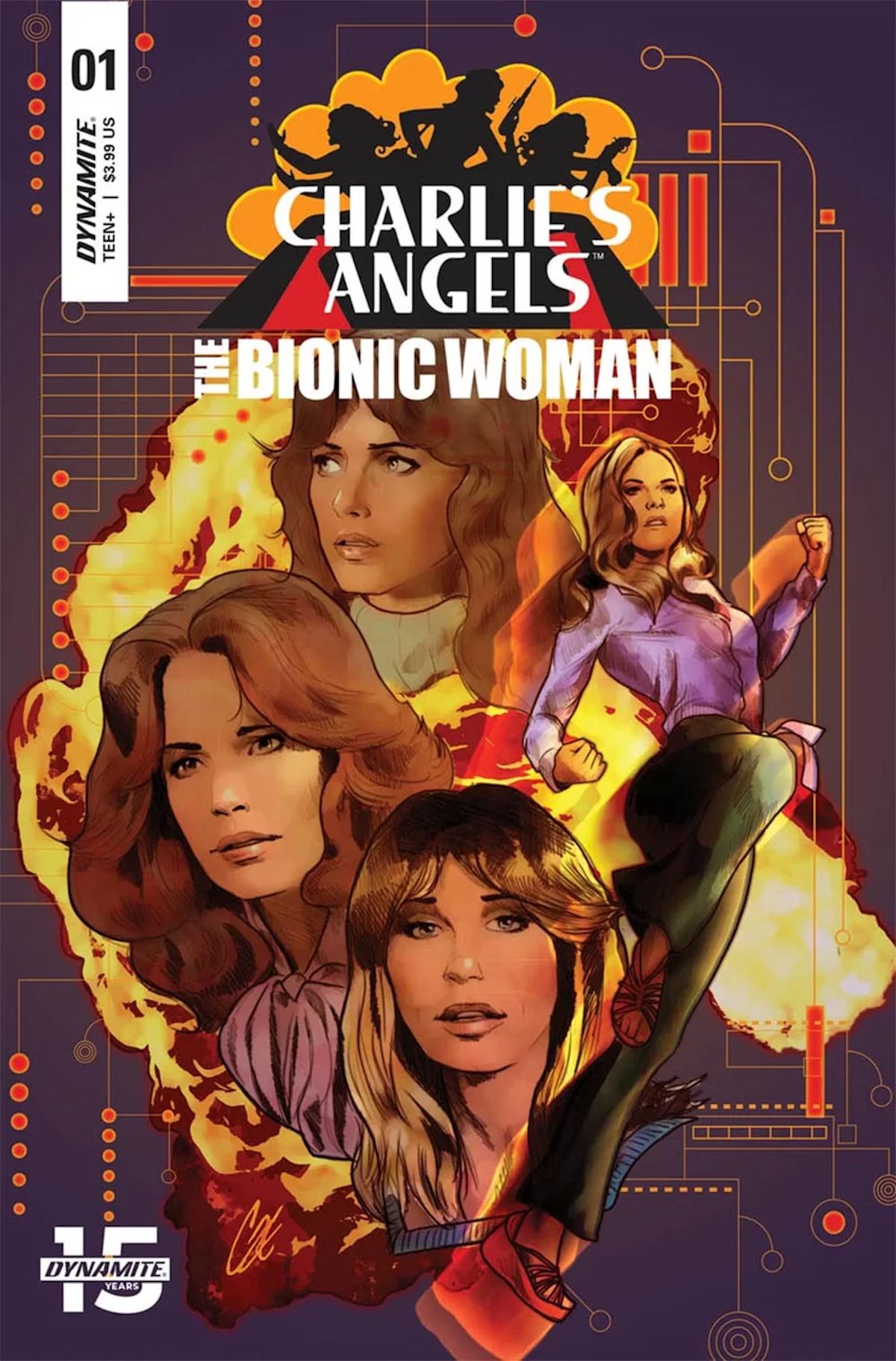 For the first time ever, the Angels meet the Bionic in the crazy 80's in Charlie's Angels/Bionic Woman, from Dynamite Entertainment. Bringing together Sony Pictures Entertainment's Charlie's Angels and Universal's Bionic Woman is a first in comics and a winning crossover event in print.
Charlie gives his Angels an assignment to steal back a patent for its mysterious inventor. The biggest hiccup on the mission is their toughest counterspy yet, literally – Jaime Sommers aka the Bionic Woman. Will the cyborg come out on top against a team of highly trained private investigators or will the tides turn toward a team-up against some greater threat?
Audiences sat at home glued to their TVs watching the thrilling adventures of these detectives, even on the same night for a period. This new series is set within the original series continuity for both shows and takes place after their finales, bringing everyone together in the 1980s.
Cameron DeOrdio (Josie & the Pussycats) brings his honed writing abilities and love for both franchises to the table, while artist Soo Lee (Strange Attractors, Fight Like a Girl) draws these women in her one-of-a-kind style. Colourist Addison Duke (Barbarella/Dejah Thoris, Curse Words) and letterer Tom Napolitano (Justice League, Aquaman, Red Sonja) round out the team inside the book. On the outside, a compelling cadre of cover artists include the sensational Cat Staggs (Crosswind, Wonder Woman '77, Star Trek), indie darling Jim Mahfood (Spider-Man: Into the Spider-Verse, Tank Girl, Grrl Scouts) and paperback cover and movie poster legend Ron Lesser (The Spider).
"Charlie's Angels/Bionic Woman is a story about good people trying to do good things who end up at cross purposes," said writer Cameron DeOrdio. "We've made a spy comic, with sneaking around, exotic '80s tech and tense undercover infiltration, but it's also about questioning the track you find yourself on and defining for yourself what's right, even if it means turning your whole life upside down. I'm really excited to have Soo Lee onboard for this book. The way she draws both the Bionic Woman and the Angels perfectly captures their personalities, while also stylistically representing their differing perspectives."
Artist Soo Lee had this to say, "When I was asked if I wanted to work on a crossover comic of Charlie's Angels and the Bionic Woman, I had to jump on the opportunity. I've always wanted to draw a 70/80's themed comic and being a fan of the show, to be able to work on this project is a dream. I wanted to be loyal to the style of the era and give a nod to the original series. Cameron and I both clicked on the vision for this story right away and with his fun writing, I think we both brought the Angels back to life!"
"It's great to be playing with Charlie's Angels again, and pitting them against the Bionic Woman is such a natural idea, it was inevitable" said editor Matt Idelson. "And while I was of course familiar with Cameron and Soo's prior work, they've nonetheless been a revelation to me. This book is too much fun!"