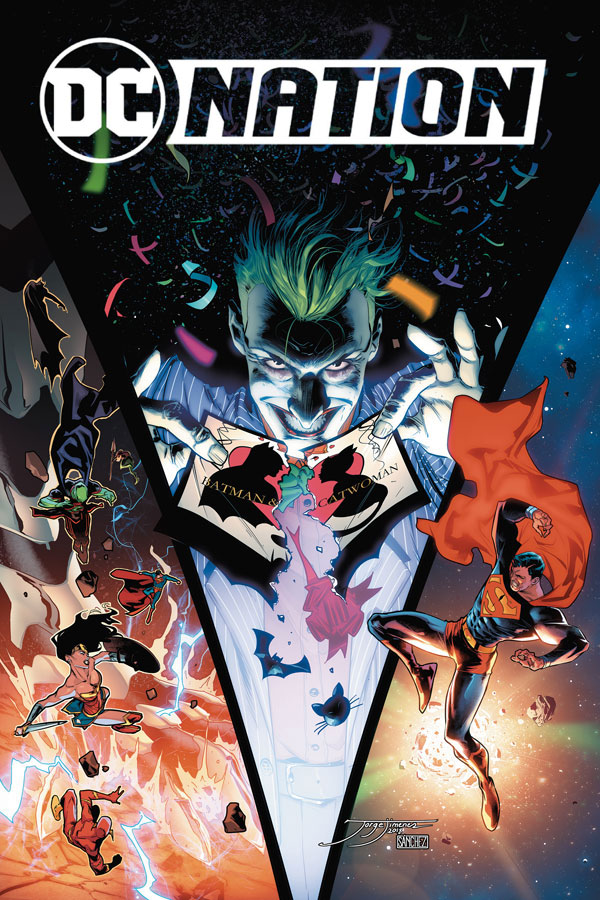 Boasting three of the most popular writers in comics, DC is getting a jump on Free Comic Book Day (May 5) to let fans in on all the excitement in store for the World's Greatest Super Heroes. On Wednesday, May 2, DC Nation #0, a 32-page comic book, will spotlight events from three of DC's top storytellers – Scott Snyder, Tom King and Brian Michael Bendis, all best-selling, celebrated authors.
With the unbelievable conclusion to Scott Snyder and Greg Capullo's "Dark Nights: Metal" paving the way for the Justice League: No Justice four-issue weekly series (with co-writers James Tynion IV, Joshua Williamson and artist Francis Manapul), fans will be clamoring for more information on what kind of wild, over the top roller-coaster ride Snyder and crew have planned next; artist Jorge Jiménez (Super Sons) joins him for a preview of just how big the Justice League's next challenge will be when Justice League: No Justice begins May 9.
In a Batman story by Tom King and artist Clay Mann, The Joker gets word about the wedding between the Bat and the Cat, and he's not happy. With the wedding story arc reaching its climax in Batman #50 on sale July 4, The Joker will be that one wedding guest most likely to speak now and not hold his peace at all.
From the return of the trademark red trunks to the debut of superstar writer Brian Michael Bendis in the Action Comics #1000 comic book in April, the future for Superman couldn't shine any brighter, but for fans, that's just the tip of the super-iceberg. Bendis, along with legendary artist José Luis García-López, is also contributing an all-new story to DC Nation #0, a prelude to his highly anticipated Man Of Steel weekly miniseries debuting May 30.