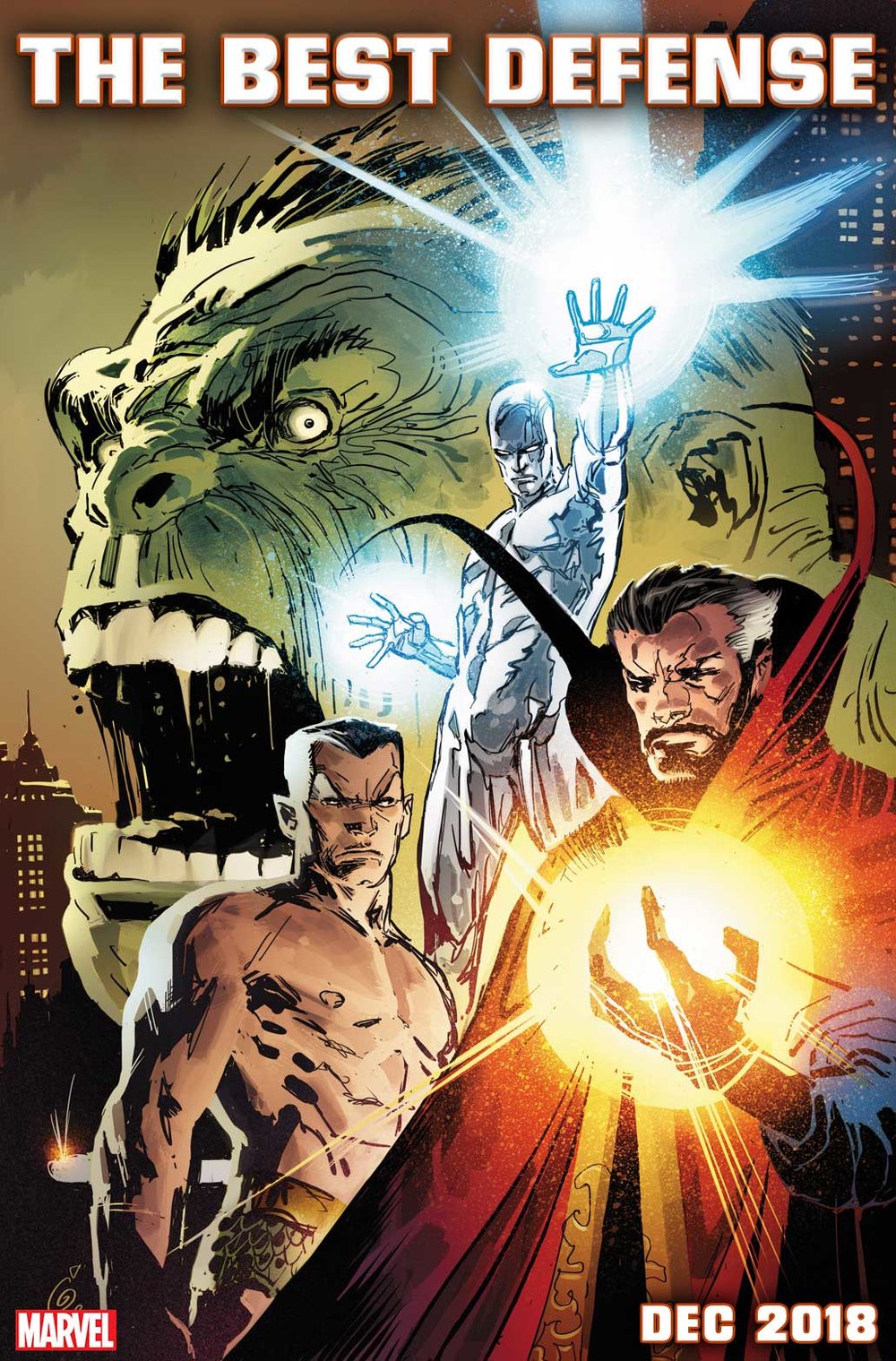 Doctor Strange. The Immortal Hulk. Namor the Sub-Mariner. The Silver Surfer. You know their names and you know their powers… and you know them as the Defenders! This December, Marvel's favourite non-team – the original Defenders – return in all-new stories!
With an assembly of stellar creative teams, writers and artists such as Chip Zdarsky (Marvel 2-In-One), Gerry Duggan (Deadpool), Jason Latour (Spider-Gwen), Simone Di Meo (Old Man Logan Annual), Carlos Magno (Thunderbolts), Greg Smallwood (Moon Knight), Al Ewing (The Immortal Hulk) and Joe Bennett (The Immortal Hulk) will spin five interconnected specials that tell a unique and captivating story for each original Defender.
Immortal Hulk: Best Defense Special
"The Best Defense" starts here!
Stephen Strange is dead. A charred skeleton in an abandoned barn on the edge of a deserted town. Bruce Banner wants to know why. And he won't stop until he has the truth in his hands…
…with or without the Immortal Hulk.
Namor: Best Defense Special
"The Best Defense" part two!
The Monarch of the Oceans has declared war once more on the surface world in the pages of Avengers. And if this is a war that Namor means to win, he is going to need allies to stand beside him!
The Sub-Mariner's quest for a lost tribe of sea-dwellers carries him further than he ever thought possible-and to a reckoning both strange and wonderful! And hey, what's up with that weird apparition in the sheet, anyway?
Doctor Strange: Best Defense Special
"The Best Defense" part three!
In a desolate, barren landscape, the Master of the Mystic Arts fights what may well prove to be his final battle-alone, unaided, friendless… except… what's in that bag that Stephen Strange is carrying with him?
Silver Surfer: Best Defense Special
"The Best Defense" part four!
Shall not the Judge of All the Earths do right? Norrin Radd is not so certain. But it falls to him who is the Silver Surfer to decide which planets will live… and which will feed the unending hunger of the world-devouring Galactus!
A single honest person can tip the balance… if only the Surfer can find one in time! And the Train rolls on…
Defenders: Best Defense Special
"The Best Defense" finale!
The lost Atlanteans. The Train. The bedsheet man. Dead Steve. The Stock Exchange of Souls. Trust us, it all makes sense.
In fact, it makes enough sense to destroy our entire solar system… Unless four very different heroes can come together to stop it.