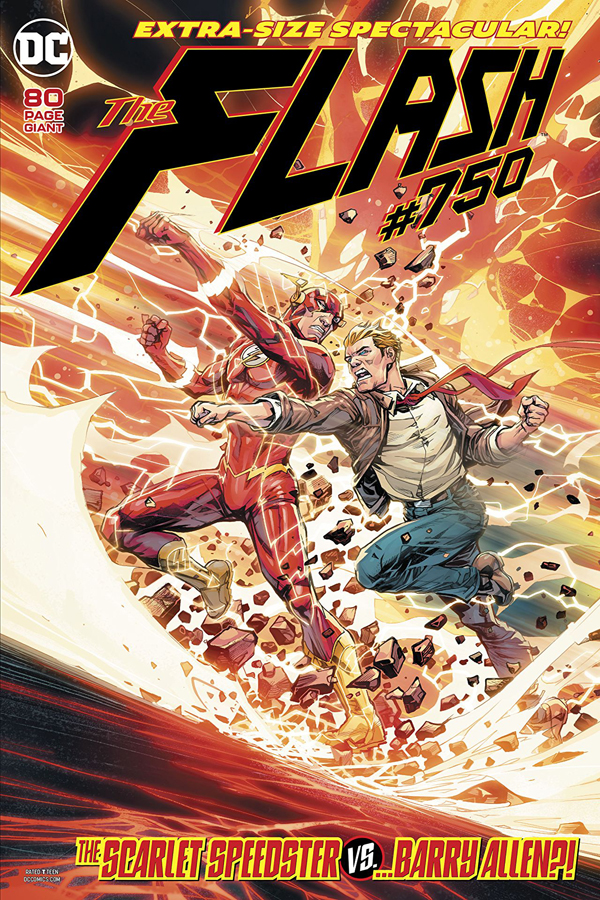 Beginning: "The Flash Age"!
The story we've been building toward since issue #50 comes to a head!
While a supercharged Speed Force wreaks havoc on Barry Allen's life, a new threat appears on the horizon in the form of the deadly Paradox. Destined to destroy the Flash's legacy, Paradox sends his herald, Godspeed, to trap the Flash family!
Plus, in this special anniversary issue: tales from across the generations of super-speedsters by an all-star lineup of writers and artists!
This celebratory issue will be added for all subscribers of the current Flash series.
Should you only want issue #750, please contact us to edit your subscription to cover this single issue.
Should you want any of the eight Decades variant covers, or the blank cover variant, please contact us to edit your subscription.
1940s variant cover by Nicola Scott
1950s variant cover by Gary Frank
1960s variant cover by Nick Derington
1970s variant cover by José Luis García-López
1980s variant cover by Gabrielle Dell'Otto
1990s variant cover by Francesco Mattina
2000s variant cover by Jim Lee and Scott Williams
2010s variant cover by Francis Manapul